Praying in the Fire
shared by Suzin M

c

Neill


Last night I was praying and crying out for the LORD to move within about the people within a church I attend. I know that many other churches are in the same place, desiring a "great move "of GOD while not being strong in prayer, and intercession. All "great moves" of GOD have come only through prayer. It is not hard to discern a resistant dryness there within the Spirit. The LORD spoke to me, and said, that the dryness there is like scrub brush along the side of the road. It is easily ignited during dry spells.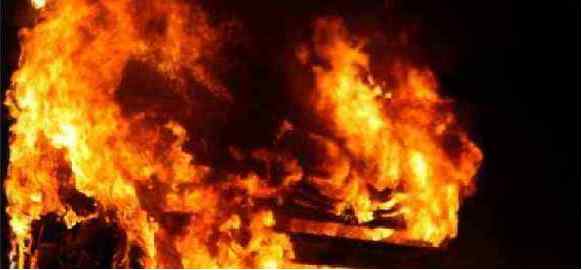 In the power name, JESUS I prayed for a match light, an ember, to fall. These are the words our FATHER spoke through the Holy Spirit for this body, this church, in this hour. Before this is read, please hear my confession that JESUS CHRIST is LORD and JESUS CHRIST has come in the flesh and by HIS blood alone are sins forgiven. This is what The LORD spoke unto me.
WORD OF THE LORD

You seek ME and ask ME about the fire. When shall it come? How long before I, The LORD release My Anointing upon MY people to prepare them? My people, how long before the blazing fires of repentance and purification come unto this body? How fervently do you seek Me here? How many come and lay on My altar and pray for this body? How many sit in this service and serve without praying? How many cry out for one another as they cry out for their own families? Is it time to cry LORD bless me again and again, when you have not sought ME in fervent prayer? Is it time to ask ME to even hear you when you willingly, and willfully walk in the ways of sin, and do not repent? Prayer is the least thing you do, yet you expect much.

Your prayer closets are cold and uninviting to ME. My people, how long before the blazing fires of repentance and purification can come unto this body? Can you serve ME without praying? Can you come together without praying one for another? Can revival come without prayer? Nay, only My judgments come without prayer.
Prayer kindles the fire.

Until this happens here at this church, at this time, now, there shall be no fire. Do you not under- stand that without My fire you are lukewarm or cold? How can you serve without submitting in prayer first? How can you turn My house into a house of services without prayer?

In this church, in this hour, I, The LORD do look upon thee and say you are negligent as a body in prayer. You seek ME for needs and blessings but not to know ME. You ask ME again and again to bless the works of your hands. You ask ME to come in MY power and revive you but you enter not into MY service, again and again. You faintly minister unto ME. You worship for minutes and expect instant changes. You pray and leave unchanged. You want my blessings but yield not unto My disciplines.

Prayer, it is the least thing you do, here within this body. It is not just or your pastor to seek ME. It is not just for you to draw near to My council as problems arise. You are to pray one for another. You are to come unto your FATHER with requests one for another. You are to stand in the gap through prayer one for another. You are to cry out for the families in crises within this body. Do you not see that death is before you and life is before you? Choose to commit yourselves unto prayer. Choose this day to right your hearts before ME, for I, The LORD do speak by My Holy Spirit and say you as a body, and as a church are neither cold nor hot.

Pray for the purging fire to come and to fall, but first pray ye one for another. Cry out for your family members here. Cry out for the forgiveness of one another. Cry out that my purging fires will begin within each heart here. Cry out and cease with your self ways and self will and surely I, The LORD will hear thee, and I, The LORD will answer thee.
Oh, My people do you not see that I send warning in love? I love thee, but this day, I say unto each of you, that you have walked in the slackness of religion and services. I, The LORD have called you today to pray as never before. Set yourselves to cry out in prayer, in the morning, at noon, and at night. Pray always. Who will stand in MY house praying? Who can stand in My presence in prayer knowing that you please ME? I long to answer your prayer. I long to come unto you with My manifest presence, yet, My Spirit is withheld here in this church, at this hour, because of your own slackness as a people before Me. Shall I send the rain? Nay. There will be no rain. Shall I send the fire? There can be no fire until you are set as a body to seek My face, and to pray for one another in love and in travail of heart.
MY people, it is time to pray....It is time to commit to prayer and to obedience as never before. It is time to submit your wills upon My altar and cry out that I, The LORD can come among you with the fires of My Holy Spirit. I long to bless you. I long to raise you, this body, as an ensign to all. Yet, I, The LORD am held back because you have not committed to submit in prayer. You have not committed to love one another and to know one another. Shall you love ME and not the one next to you? Shall you cry out for yourselves selfishly, and not pray for one another? I will send My fire. I will send revival to you as you begin to seek ME and pray one for another.
Have you no words to pray? Let My Spirit give you the words. Have you no zeal toward prayer? You are all called to pray. You are all called to spend time with Me. You are all called to hear ME. At this hour, at this church, I call you to pray. I call to you to prepare now. I call to you to prepare your ways before ME, that I, The LORD come not with My judgment. I call you each to prayer, for of assurity MY fire will come to this body, to this church, and even to those who refuse MY calling to prayer. Cry out for the fire. It will purge you. Cry out for the covering of sins by the blood of My Son, JESUS for both yourselves and the ones gathered here, today. Choose to pray and to love one another. Choose to submit. Ye are one body called to prayer.
My fire comes in only two ways, judgment and purification. I am bringing you, My people, to and through the fires of purification. I have not delivered you from going through the fire because it is a necessary process. That dross, self lead actions, which can be burned, must be consumed so that what remains is pure and gold. Do you desire to purchase gold from the fire? Do My will.
Will you take up your cross, before travailing in the hard place of the rocks of Gethsemane? Gethsemane is the place of seeking, accepting, and dying to your own self-willed ways. It is a hard place that involves the dying will. It is a fiery place where embers are placed upon your lips and your speech is made right. It is a place of preparation for the fires. How can you be strengthened when you avoid the rocks of Gethsemane? How can you be a golden vessel without My purging fires? Step into the fires of My Will. The temporal worldly things will burn away.
Pray for My purging fires and I will come too, for I AM holy, and I walk as the consuming fire. My ministers stand as flames of My fire, as they do My will. Prepare...yourselves in prayer. Only the works of My Holy Spirit will prepare you to walk in My fires and not be burned. Your services and programs are fuel to the fire, when My will is not sought. Let the fire consume your self-willed ways, that you may stand in Me as vessels and ministers unashamed.
Many have stoked the fires of judgment within this body. Few have stood steadfast in prayer. The fire will only be quenched when there is no more fuel. I, The LORD speak unto you this day, be as the three Hebrew children thrown into the fiery furnace. They would not bow to the ways of worldly kings. They choose My will and endured the flames over their own self. How many today would stand the test? My people, do you not understand that once you choose to do only My will and to walk obeying My voice that I, The LORD will stand as the fourth man within the furnace? Choose My will and I will draw near to you. It is not that I am a distant GOD, it is that your ways are separate from My ways and you walk according to your own thoughts, and not yielded unto My spirit, wholly.
Shall I send the fire when I am the fire? Draw close to Me in prayer. Hear Me, listen. My fires will burn up your bondage's, and prepare you unto holiness. Stand praying and you will come forth from My fires not smelling of smoke. You will come forth free, free as you pray for one another. Within My fires your words and prayers will become one. I will be with you in the fire. I will temper your edges. I will melt your fleshly services and I will bond you one to another. Pray. I have lead you, fed you, clothed you, loved you, and now call to you from the fire, join Me in prayer one for another that I may make you one in the Holy Spirit, and one in My will. I will be with you and prepare you, as you submit. I will be against you if you resist.
There are two reasons for My fire, judgment and purification. All here face a decision this day, and your lives will be changed by MY Words, and by your prayerful submittance. MY people will you be a body consumed by the fires of MY judgments? Will you rise up by kneeling down in prayer for one another? Submit unto ME. Pray and repent now, and you will rise up from the warm places of your comforts. Pray for MY fire to fall within your own hearts first, and then pray for those beside you. Pray ye one for another.

Cry out one for another and when you emerge from the heat of this furnace, you also will be free, and the ones beside you will be free. Do you love ME? Let MY fire consume you, for I, The LORD am a consuming fire, and I long to raise you together in one accord, without spots nor blemishes of sin.

Come ... Pray... Stay close.
Reference Matthew 26 41) Watch and pray, that ye enter not into temptation: the spirit indeed is willing, but the flesh is weak.But pray ye that your flight be not in the winter, neither on the sabbath day. For then shall be great tribulation, such as was not since the beginning of the world to this time, no, nor ever shall be.Neither pray I for these alone, but for them also which shall believe on me through their word; That they all may be one; as thou, Father, art in me, and I in thee, that they also may be one in us: that the world may believe that thou hast sent me.

John 17, 21) That they all may be one; as thou, Father, art in me, and I in thee, that they also may be one in us: that the world may believe that thou hast sent me.
And the glory which thou gave me I have given them; that they may be one, even as we are one:
Divine Lordship is not a threat; rather it's the place of greatest safety.